What is the BDIH standard?
We know that we make the best products, both for people and the environment, but we want you to know too. Ananda Bio Cosmetic is the only Israeli brand authorized to display the stringent BDIH standard mark for natural products, guaranteeing that every product offers a pure botanical experience. The highly-regarded German BDIH certification is approved by the European Federation of Health Products Manufacturers Associations (EHPM). In order to uphold this standard, all our ingredients must undergo rigorous testing. In fact, all products bearing the BDIH symbol are guaranteed to contain only the purest natural ingredients, free from synthetic and genetically-modified materials, mineral oil, parabens, SLS, artificial colors and fragrances, silicone, preservatives, and paraffin. Our commitment to producing only natural products that guide us on our holistic life path, serves as our pledge to you, as well as to ourselves.
For more information about this international standard, visit the BDIH website:
Let Ananda transport you into a world of pure luxury, offering you a better, more balanced life.
Welcome to the holistic world of Ananda, where embracing both body and soul is far more than a slogan – it's a way of life.
We believe that the best body care comes from nature. This is why we wholeheartedly devote boundless time and energy to finding the world's finest natural raw materials – "super foods" for the skin – and take great care to preserve their incredible healing, anti-aging, and cosmetic properties. All our products are meticulously formulated to provide you with the perfect, most effective beauty care experience.
So allow us to introduce the world's greatest anti-aging discovery: the treasured Grenoble nut, grown in the majestic French Alps, where it is nourished by pure melted snow. The Grenoble nut's prized Gatuline extract is prominently featured in our products, due to its scientifically proven ability to promote skin cell regeneration and delay the signs of aging, while simultaneously revitalizing, rejuvenating, and balancing skin for a healthier, more radiant appearance. This patented formula is based on many years of development, and we can't wait for you to try it for yourself!
***
In Tibetan mythology, Ananda is the goddess of the earth, symbolizing inner happiness and the aspiration to create a cleaner, purer world. These ideals reflect our goal of providing you with healthy, nourishing, and more effective beauty care that outperforms the harmful, processed products that unfortunately have become commonplace. This is why we often say that Ananda is defined by what it lacks, even more than by what it contains.  All our products are free of parabens, BHT, metals, and other detrimental ingredients that might look good, but are not actually good for us.
A World Returning to Its Roots
Shlomit Rozen founded Ananda on the principles of Ayurveda (Sanskrit for "life-knowledge"). This ancient medical philosophy views each human as complete, with body and mind intertwined, and promotes a healthy lifestyle alongside systemic anti-aging.  According to Ayurveda, the same laws of nature affect both humans and their environment, so we must act to create harmony between them.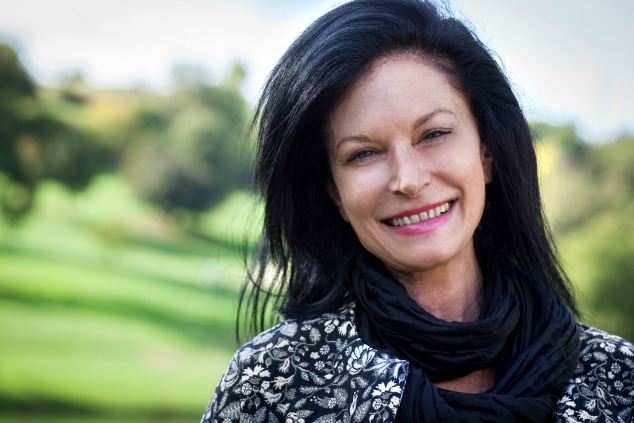 Shlomit Rozen – Ananda Founder
How many people do you know who have dreamed of living in a more natural, holistic, better world, and then have actually built a career on that dream? It's true: Shlomit Rozen is no ordinary entrepreneur.
So how did Ananda (Sanskrit for "inner joy") come to be?
It all started when Shlomit was just a young girl, suffering from a serious skin condition. She turned to medicinal herbs, which cured her without any need for conventional medical intervention. This opened her eyes to a whole new world of holistic care and, over the years, Shlomit became a leading herbalist and nutritionist, always staying true to the ancient Indian philosophy of Ayurveda.
By age 40, Shlomit understood that Israel lacked the high-quality natural anti-aging formulas, with the ideal concentration of active ingredients, that she expected from her beauty care. At the time, knowledge of the field in Israel was minimal, and niche natural stores had not yet come into their own. This inspired Shlomit to start her own business. As a born trailblazer, she scoured the world for the purest, healthiest, most natural, and active anti-aging "super food" for the body and skin. One of the revolutionary active ingredients she found was the French Grenoble nut extract. This remarkable ingredient is now the basis of our anti-aging line.
Today, as a 57-year-old mother and grandmother, Shlomit is focusing more than ever on leaving behind a better world for her children. This is why Ananda pays special attention to its manufacturing process, developing eco-friendly packaging and natural products free of harmful chemicals.
Ayurvedic principles continue to guide Shlomit, imparting appreciation for the virtues of nature, as well as the desire to give back to society. Shlomit endeavors to make her life's work – Ananda – a model for leadership and sustainability. From a holistic perspective, our surroundings must support the body and soul as one – so we take great care to create products that nurture both simultaneously.
All Ananda products are formulated with great love and respect for the environment, and all our ingredients are organically grown. The extracts and oils are handled in prime condition, without harmful processes that destroy their beneficial properties. Traditional phytotherapy and the most innovative cosmetic science guarantee that customers enjoy the finest, purest, and cleanest products available.
Because what is taken by nature, can only be returned by nature.
I'm here for you and want to hear your thoughts. Feel free to reach out to me via the personal questions section on the site.
With love,
Shlomit